---
Eggemoggin Reach - Deer Isle, Sedgwick, Maine, USA
Leon Moisseiff (Tacoma Narrows) wasn't the only one building thin, plate-girder suspension bridges in the late 1930's. The Robinson & Steinman-built Deer Isle suspension bridge has been known to do some galloping of its own. All photos by David Denenberg, please do not reuse without permission.
These first two photographs were taken in the mid-1980's on a family vacation. I asked my father to stop the car so I could stand in the rain and take a couple quick pictures.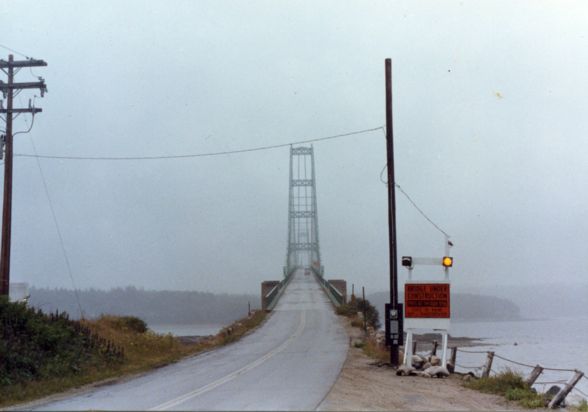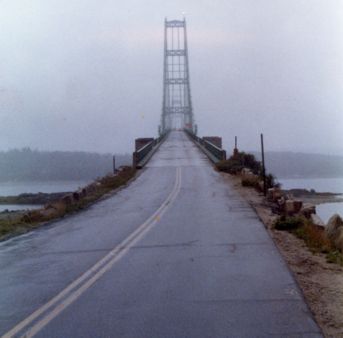 I made an unplanned sidetrip to revisit the Deer Isle suspension bridge in May of 1999. Unfortunately, the sun was setting as I arrived. It was interesting to notice how much, from a distance, the proportions of the Deer Isle bridge resemble those of the original Tacoma Narrows bridge. As I got closer, it became obvious the bridge had been modified to reduce 'unwanted motion' in the bridge deck. The entire plate girder deck is now obscured with wind deflectors. Cross-bracing between the cables and the deck (forming X's above the roadway) were also added. I also noticed the cables are not wrapped, just bundled at the suspender connections.