---
Liebre Gulch - Pyramid Lake vicinity, California, USA
All photos by Eric Sakowski. Please do not reuse without permission. Two adjacent suspension bridges appear in the photos below. Eric writes about the bigger of the bridges: " ...located just three miles east of Pyramid Lake and I-5 about an hour north of Los Angeles. A very difficult bridge to reach what with the old ridge road partially washed out, it is a world away from the busy Interstate 5 just visible about three miles from the bridge... The North [bigger] bridge has a main span of 500 feet and carries a 3-foot pipe 185 feet above the canyon. It is unique in that the North tower is considerably lower than the South Tower. Stringers are spaced 25 feet apart and the bridge is in excellent condition. Nearby South Liebre Gulch [the smaller bridge] has a 200-foot span with an unknown height as I could not reach it by road. The medium sized bridge [not clearly pictured here] further south has a span of 375 feet and is also quite high but unreachable."
The third bridge that Eric refers to as the "medium-sized" bridge is actually in this photo but difficult to discern at this resolution.
An annotated copy of the previous image showing the location of the three bridges.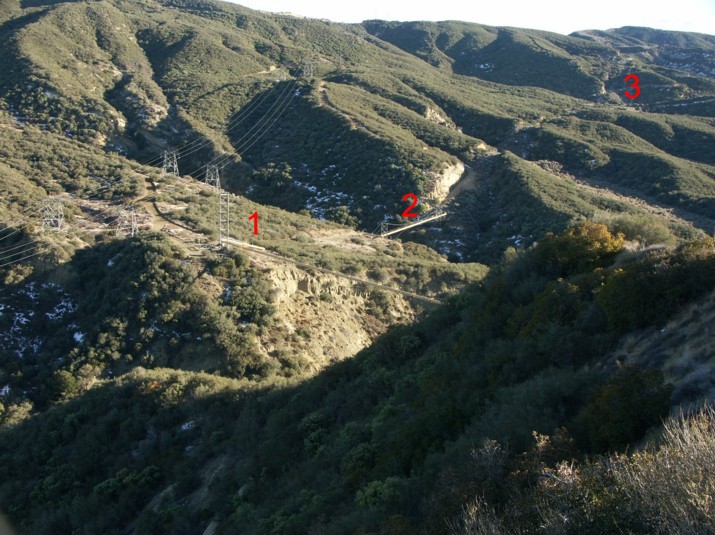 A close crop showing the third bridge.